The Nord Stream 2 Pipeline Threatens European Energy Security
It's a means for Russia to leverage the flow of gas for political influence in Europe.
The launch ceremony for the Nord Stream gas pipeline.
Russian gas exports to Europe reached a record high of 193.9 billion cubic meters in 2017.
As Germany and Russia begin construction phases for the Nord Stream 2 pipeline underneath the Baltic Sea, Polish lawmakers echoed by U.S. Secretary of State Rex Tillerson continue to oppose its construction. Polish Prime Minister Mateusz Morawiecki asked the United States to consider extending sanctions that would hamper its development. Secretary Tillerson has stated that he sees the Nord Stream 2 pipeline as a threat to European energy security.
What do gas pipelines and security have to do with one another? The United States and Poland both consider the Nord Stream 2 pipeline to be a potential political tool for Russia. Both countries have raised the frightening possibility that Russia could use the flow of gas as geopolitical leverage in Europe. In other words, if political tensions escalated significantly to Russia's detriment, the Kremlin could just turn off the tap.
What is Nord Stream 2?
The Nord Stream 2 pipeline will link Germany and Russia, bypassing several Eastern European states. Once constructed, it will be one of the world's longest offshore pipelines measuring at over 745 miles (1,200 kilometers). Once it makes landfall, natural gas from Russia will flow through to access European energy markets.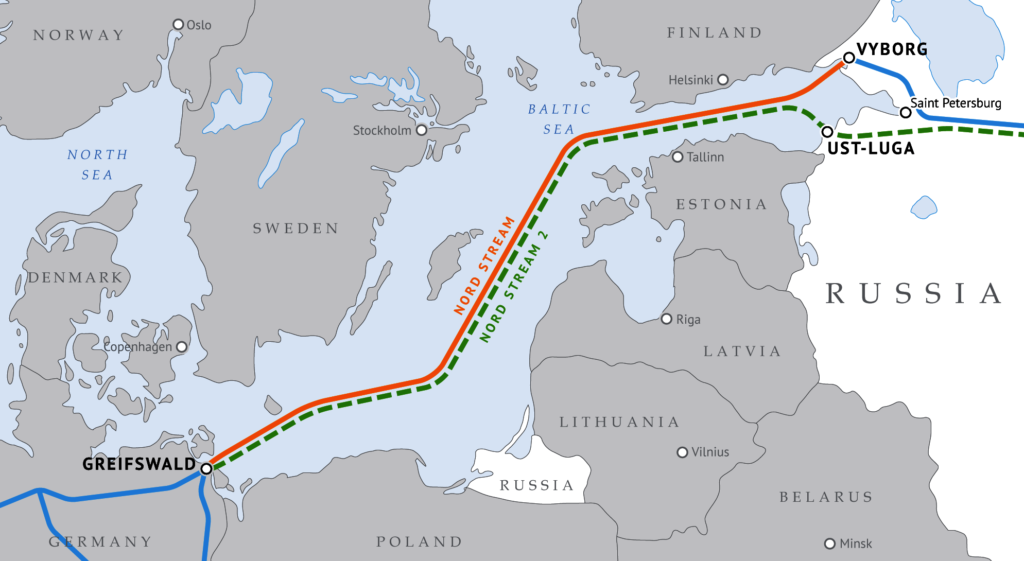 Permits were granted to begin construction on the Nord Stream 2 pipeline in the landfall area in Lubmin, near Greifswald, Germany on January 31, 218. The Stralsund Mining Authority issued the permits. Other countries that will need to also provide licenses to Nord Stream 2 are Russia, Finland, Sweden, and Denmark. The scheduled completion of the pipelines is marked for the end of 2019.
Europe will face a deficit of 120 billion cubic meters of gas over the next two years. Nord Stream 2 and LNG aim to mitigate that gap. In response to claims that Nord Stream 2 is will place Europe under Russian influence, the gas company claims that Russian gas makes up approximately thirty percent share of EU energy consumption. Even with the construction of Nord Stream 2, Russian gas exports to Europe are not expected to increase or decrease drastically.
Energy diversification as a tool of political power.
Energy diversification has long been the desired policy of European states. However, with the expansion of Russian natural gas pipelines across Europe and Eurasia – that possibility grows smaller. Smaller countries like Poland are naturally worried about the intentions that a monopoly on gas could cost Europe. Poland has started imported liquid natural gas (LNG) from the United States, but overall – the majority of energy comes directly from Russia.
One of the more significant questions is whether or not this is a situation that requires a negotiation mandate from the European Commission. Does Germany need permission from the EU for this project? Countries like Poland would say yes. However, Germany doesn't believe there is a need for it. With that comes a degree of regulatory uncertainty. Furthermore, the question of how seriously Bulgaria will take energy diversification when it takes up the EU Council presidency remains unanswered.
Another issue that arises is that Ukraine makes around 1 billion USD annually from transport costs of Russia using their territory to access Europe. With the Nord Stream 2 in place, that will no longer be the case. Bulgaria, like Ukraine, is also highly dependent on Russian gas. On the security front, how will Nordic countries handle construction preparation with a more aggressive Russia on their literal sea borders?
Taking all of this into account, however, Nord Stream 2 will translate more gas and in turn more competitive pricing for European consumers. As a political tool, though, the Nord Stream 2 pipeline is a potentially useful way for Russia to increase its influence in the European Union, which has restricted Russia's economic activities through sanctions that were levied in the aftermath of Russia's annexation of Crimea. It remains to be seen, at present, whether or not the Nord Stream 2 pipeline is a vehicle for Russian foreign policy and political influence.
Gabriella Gricius is a Ph.D. student in Political Science at Colorado State University in Fort Collins, CO focusing on Russian studies, Arctic politics, and critical security theory. She also works with Dr. Wilfred Greaves at the North American and Arctic Defense and Security Network (NAADSN), focusing on human security. She is also fluent in German and Dutch and reads Russian on an intermediate level. She is also a freelance journalist and writes for a variety of online publications including Foreign Policy, Global Security Review, and Riddle Russia, amongst others.