Elections in Ukraine's Donetsk and Luhansk Regions: Peace, But At What Cost?
Will the plan for elections in Eastern Ukraine result in peace?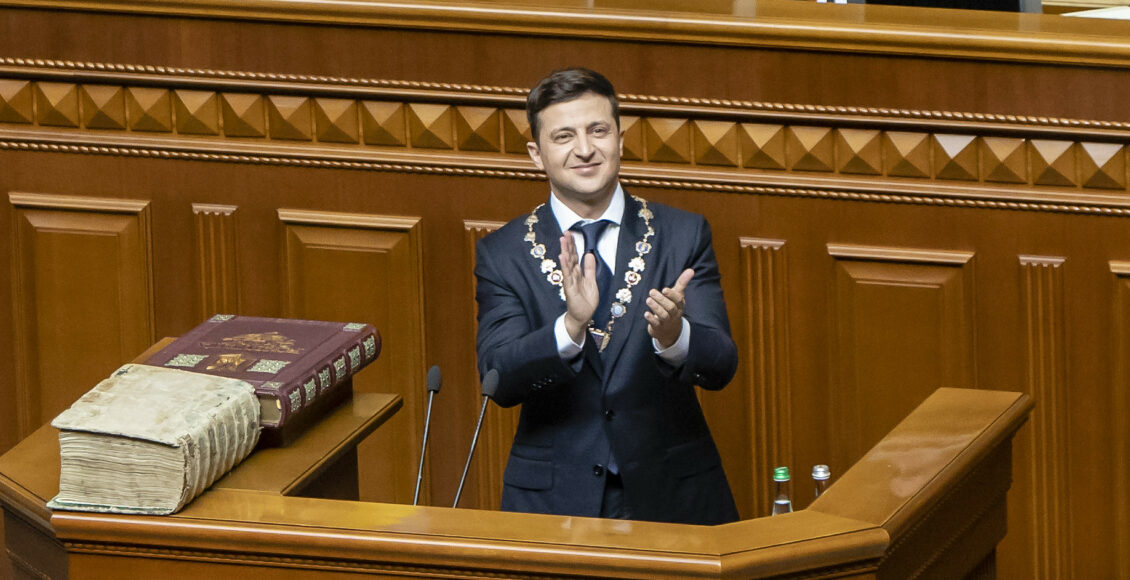 Ukrainian President Volodymyr Zelensky
In early October of 2019, Ukrainian President Volodymyr Zelensky announced that Ukraine would agree to hold elections in the occupied regions of Donetsk and Luhansk once all armed forces leave the area. In return for free and fair elections, documented by the Organization for Security and Cooperation in Europe (OSCE), the occupied regions would be granted new self-governing status within Ukraine.
The war in the Donetsk and Luhansk has killed more than 13,000 people since its onset in April 2014. While many in Ukraine see this as a surrender to Moscow, Zelensky asserted that "there will be no capitulation." As part of this new peace deal with Moscow, Zelensky also set up a prisoner exchange with Moscow—swapping 35 prisoners each. While Moscow and other members of the international community expressed their support for this new détente in relations between Moscow and Kyiv—local politicians did not agree.
Response in Ukraine
Within Ukraine, this move was met with anger and betrayal. Former Ukrainian President Petro Poroshenko criticized the agreement, while Andriy Biletsky, leader of the right-wing National Corps, claimed Zelensky "chose shame and now he will get war too." National Svoboda member Yuriy Syrotyuk also added his voice to the discussion, stating that Zelensky "committed treason."
Many politicians claim that while Ukraine is now committed to holding an election, Russia has not agreed to give back control of the border—moving the scales heavily in Russia's favor. This was particularly concerning for Zelensky's reputation as he came to power promising to end the war rather than prolong it.
Will this mean peace?
While this step might herald a new warmer point in relations between Russia and Ukraine, it does not necessarily immediately foretell immediate peace. Even the four-way talks between Ukraine, Germany, France, and Russia have stalled since October 2016. However, both states have already renewed pulling troops and equipment from the Donetsk and Luhansk regions starting October 7. Despite this positive step, the process toward peace will take time. Although the agreement to hold elections in the Donetsk and Luhansk has already provoked much aggression from local politicians, no elections can take place without promises that all armed groups will vacate the area before the election.
The elections are one part of the Steinmeier Formula; a plan put together by former German Foreign Minister Frank-Walter Steinmeier in 2016. In short, it first proposes free and fair elections in Ukraine's east under Ukrainian law, verification by the OSCE, and self-governing status in return. It is the only plan that Russia has also agreed to as part of reopening talks.
If elections bring peace, what will the cost be?
Although elections in Donetsk and Luhansk may seem to be beneficial for the peace process, results will likely heavily favor Russia and the current Russia-backed separatist leaders. Most of the population with pro-Ukrainian views left for western Ukraine at the start of the conflict. Therefore, those remaining will likely harbor pro-Russian views, and the election, rather than get a broader range of opinion in the region, will consolidate the already dominant position of Russia-backed leaders currently in place.
It is to Russia's advantage to have and support a federalized Ukraine as it will allow for more pro-Russian dissent against Ukraine's current pro-European stance. Moreover, a more heavily divided Ukraine also favors Russia's wish that it remains in its sphere of influence. Already, many Ukrainians do not support special status for Donetsk and Luhansk and do not think that the Steinmeier formula is appropriate. Elections in the Donetsk and Luhansk might decrease violence right now, but, in the future, they could lead to a Ukraine that is more likely to head into civil conflict in the future.