India Should Become The United States Premier South Asian ally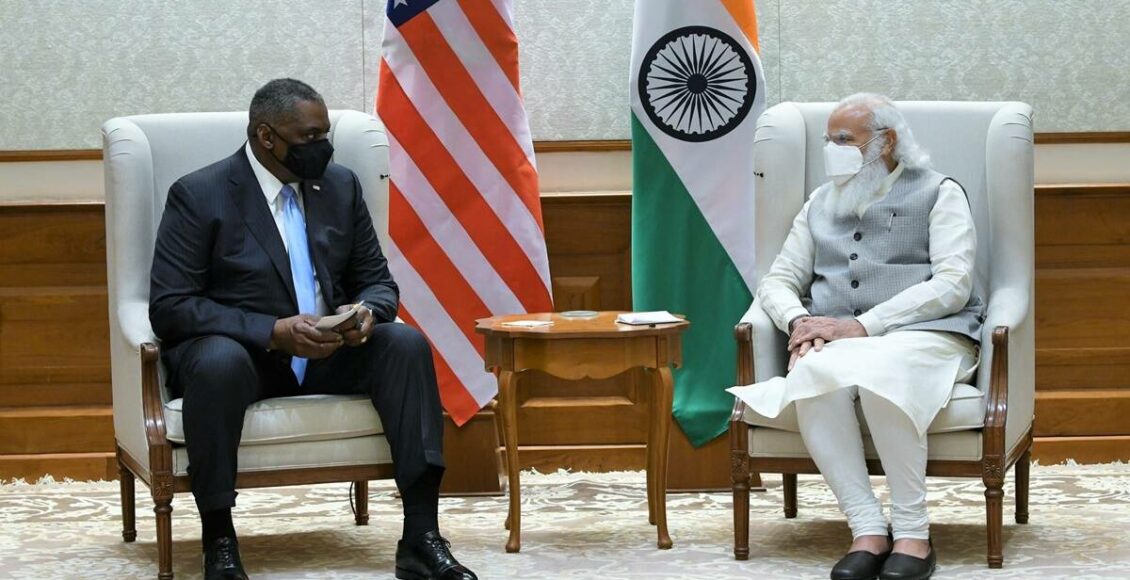 Indian Prime Minister Narendra Modi meets U.S. Secretary of Defense Lloyd Austin in New Delhi (Source: Twitter/@narendramodi)
For years, CIA officials tried to confront Pakistani intelligence officials about their assistance to the Taliban. Douglas London, who oversaw the CIA's counterterrorism operations in South Asia until 2018, recalled these encounters. "They (Pakistani intelligence officials) would just say, 'You just come to my office, tell me where the location is,'" London remembered. "They would just usually pay lip service to us and say they couldn't confirm the intel."
The United States provides substantial diplomatic and economic support to Pakistan. Unfortunately, this policy inadvertently enables Pakistan's economic, political, and military support for the Taliban and other Islamic militant groups. The U.S. should move from its dubious relationship with Pakistan to a more compatible alliance: India should become America's premier South Asian ally.
Pakistan is an unreliable and untrustworthy ally. From the Taliban's inception in the 1990s, The Pakistani Inter-Services Intelligence (ISI) agency has supported them with money, training, and supplying weapons. It continues to be a significant source of financial and logistical support. In addition, the Taliban own real estate in Pakistan and receive large donations from private Pakistani citizens. The Taliban also teach their brand of Islam in numerous madrassas (Islamic Schools) all over Pakistan, a valuable tool to influence and recruit new members.
Since 2009, the U.S. government has committed over $5 billion in civilian assistance to Pakistan and over $1 billion in emergency humanitarian response. U.S. assistance includes projects supporting economic growth and bilateral trade; refugees and refugee-housing communities; law enforcement; civil society; and countering infectious diseases. In addition, the U.S. is Pakistan's largest export destination country and has been one of Pakistan's top investors. Examples of U.S. investments include consumer goods, energy, chemicals, agriculture, transportation, and communications. Yet, despite all the resources the U.S. has invested in helping Pakistan, Pakistan still harbors and supports the Taliban.
The U.S. should shift attention and priority to India as the premier South Asian U.S. ally. This new policy would keep economic and diplomatic ties with Pakistan but lessen them over time as the U.S. builds closer ties to India. It makes more sense for the U.S. to focus on India as the essential South Asian relationship. Both countries share a commitment to freedom, democratic principles, equal treatment of all citizens, human rights, and the rule of law.
India also shares a commitment to counterterrorism. India actively opposes the Taliban. Unlike Pakistan, India is willing to cooperate with the U.S. in counterterrorism operations against the Taliban and other militant Islamic groups.
Lastly, adopting this new policy instead of a more aggressive approach towards Pakistan would prevent a more powerful Taliban. Economic sanctions on Pakistani military and government officials with ties to the Taliban would likely be counterproductive and cause a backlash. Pakistan might even increase monetary and arms support for the Taliban. However, a growing and ever-closer U.S. relationship with India would send Pakistani officials a powerful message.
Critics argue that the U.S. neglect of Pakistan in favor of India will increase tensions in South Asia. However, tensions are already growing because of a Taliban-leaning Pakistani government. India's relations with Pakistan are always tense. The difference is that a more robust U.S.- India relationship can bring more regional stability than keeping things status quo or pushing towards a more aggressive policy towards Pakistan. India is a more reliable partner.
Current U.S. -Pakistan policy has enabled Pakistan to support and assist the Taliban and other radical Islamic groups for the past two decades. Pakistani intelligence officials deliberately lie to CIA officials regarding Taliban whereabouts, yet still claim they are committed to fighting the War on Terror alongside the U.S. Continuing down this path with Pakistan is a dead end. It is time to chart a new course with India. A U.S. alliance with India would protect U.S. strategic interests and contribute to regional stability and peace.
Kimia Hashemi-Nejad holds a BA in Political Science at the University of California, Irvine, and is currently pursuing an MA in Security Policy Studies, concentrating in U.S. National Security, at The George Washington University. She is currently interning at the National Defense University Institute for National Strategic Studies conducting research on Iran's nuclear and cyber programs.