Placing "Over-The-Horizon" Capabilities in Georgia
Resolving the issue of access to Afghanistan while deterring Russia, containing Iran, and keeping China at bay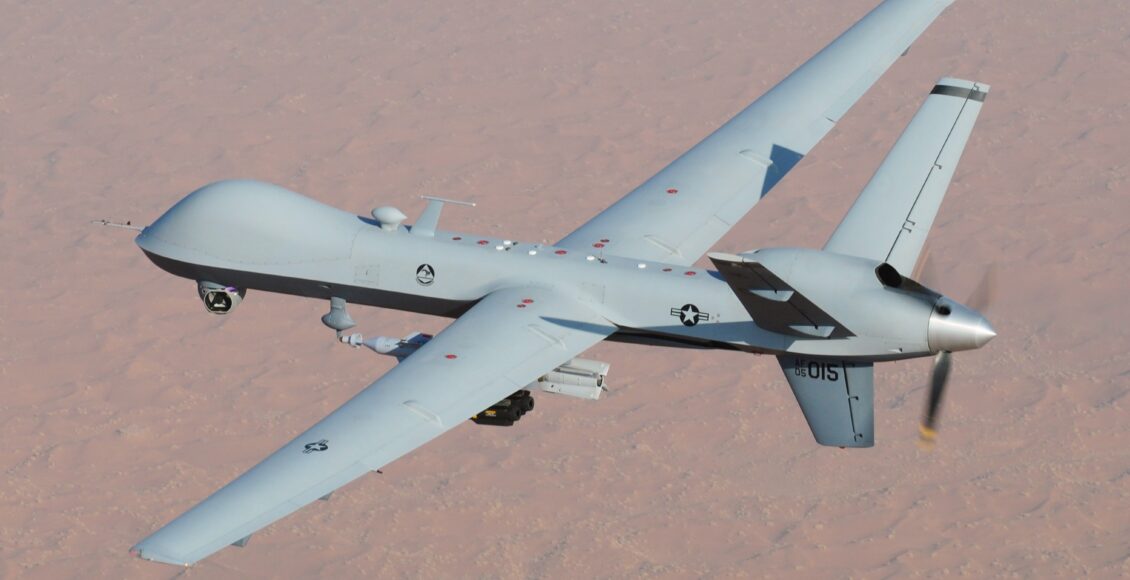 U.S. Air Force MQ-9 Reaper Unmanned Aerial Vehicle (Photo: U.S. Air Force)
Senior U.S. diplomat Victoria Nuland's visit to Moscow, attempting to get Russian assistance in establishing a military base in Central Asia—a move Russia has vehemently opposed—and the Gen. Mark Milley's chairman of the U.S. Joint Chiefs of Staff, discussions with his Russian counterpart  Chief of the Russian General Staff Valery Gerasimov over the basing rights and potential Russian support in the fight against terrorist networks reconstituting in Afghanistan indicates the fact that while the U.S. focuses on the great power competition with China and Russia, the international terrorism will remain a serious challenge to global and ultimately American security. Therefore, despite American withdrawal from Afghanistan, its ongoing drawdown in the Middle East, and its growing reliance on Over-the-Horizon Capabilities (OHC), the United States will be forced to maintain and even look for new areas to establish its military presence in and around the Middle East.
With no troops on the ground in Afghanistan, the U.S. needs a military base nearby and an access point into the region to prevent al-Qaida and Islamic State militants from reconstituting in Taliban-led Afghanistan. Options being considered range from nearby countries to distant Arab states and Navy ships at sea. While the U.S. intends to rely on ISR forces and OHC-Satellites, U-2s unmanned aerial systems (UAS), and strategic airlift platforms-in the foreseeable future operating from the U.S. aircraft carriers and the U.S. bases located in the Middle East, their effectiveness will significantly depend on regional access points and strategically -distributed assets and capabilities. As the OHC is primarily constrained by distance and airspace access issues, finding new locations near Afghanistan for basing will help the United States identify and carry out counterterrorism strikes. The urgency of establishing American military facilities closer to Afghanistan increased markedly after U.S. drone strikes killed civilians.
Given Afghanistan's landlocked geography, the composition of its neighbors-China, Iran, Pakistan, Uzbekistan, Tajikistan, Turkmenistan- and the U.S. decade-long disengagement from Central Asia, coupled with the fact that the U.S. has no bases in any of these countries, has created access crisis for the United States.
While access to Afghanistan via overflight of Iran and China is not viable, access to Afghanistan through Uzbekistan, Tajikistan, and Pakistan is possible. However, given the nature of the US-Pakistan's constantly changing relationships and Islamabad's long-standing ties and partnership with the Taliban, Pakistan's permission to let planes through its airspace is a politically unstable and increasingly unreliable endeavor that could be revoked at any time.
The United States can get overflight approval and tolerance from Central Asian states for missions against terrorist networks in Afghanistan. However, overcoming the access crisis with the U.S. permanent military presence to Central Asian countries bordering Afghanistan is highly improbable. While American military installations housed in Uzbekistan and Tajikistan could allow quick access to Afghanistan, Russia's expanding military foothold and China's growing influence in Central Asia coupled with Taliban warnings and the Central Asian states' hesitance over whether to host the U.S. military facilities or not have proven to find hosts to the U.S. bases challenging endeavor in Central Asia.
History has proven that it's not sustainable to have the U.S. military presence in Central Asia. Not long ago, the U.S. used a military base at Manas in Kyrgyzstan, which it had to vacate because of the growing insistence of Bishkek to do so. The U.S. had also leased the Karashi-Khanabad-military base in Uzbekistan. After several years of using it as a transit center, Tashkent demanded the base closed in 2005 amid tensions with Washington-portraying hosting foreign troops on Uzbekistan's territory as unconstitutional.
The U.S. can overcome the access challenge by looking into Georgia as an alternative. The U.S. should build military facilities and the "Over the Horizon Capabilities"-for troops, drones, and rapid-moving equipment- in Georgia. This will provide easy access and a nearby friendly location from which the U.S. can effectively counter extremist and militant groups re-emerging in Afghanistan. The increased military footprint in Georgia will deter Russian continued aggression, contain Iran's assertiveness and keep China's growing influence at bay. While the development of the horizon capabilities in Georgia facilities the United States easy access to Afghanistan, it will provide strategic depth and operational capacity in times of conflict against state and non-state actions in the Middle East.
From the Cold War, Georgia inherited Soviet-built military infrastructure-airports, military bases, training centers, underground towns, training centers, hospitals, and rehabilitation centers. With American assistance, Georgia has spent sizable resources to rebuild, renovate, and modernize this very infrastructure in the last two decades. In addition to interoperable military infrastructure, Georgia features strategic geography. Given its proximity to Afghanistan and the Middle East, it's an ideal location for the United States to store supplies, keep forces and respond to adversaries swiftly and decisively.
The U.S. should integrate Georgia into its over horizons capability infrastructure network. While American fighters, bombers, RQ-9s, and U-2s can be based and operated from U.S. military bases in the UAE and Qatar, the airlift, resupply, and tanker aircraft can be based and operated from Vaziani Air Base in Georgia. Georgia's strategic location and proximity to Afghanistan (and the Middle East) will make the United States' strategic objectives easily attainable. While flight time from Vaziani Air Base to Central Asian countries ranges from 2 to 3 hours, the closest the U.S. airbase is one 500-plus mile from Uzbekistan or Tajikistan entry. Georgia is even closer to northern and central Afghanistan than the distant Parisian Gulf States. While flying time from the UAE to Afghanistan is four to five hours, and Qatar five to six hours, the flight from Georgia is much shorter, a little over three hours.
Georgia has already demonstrated its high value and strategic significance by successfully contributing to the Northern Distribution Network's (NDN) activities in Afghanistan and the U.S.'s recent Afghanistan evacuation efforts.  While Georgia played a crucial role in supplying NATO's international security operations in Afghanistan, Georgia played a critical role in the evacuation process from Taliban-controlled Afghanistan due to American withdrawal from Afghanistan. The aircraft, including C-17 Globemaster III military transport aircraft of the Heavy Airlift Wing (HAW), operating as part of the Strategic Airlift Capability (SAC) program, has conducted regular flights on routes Tbilisi-Kabul-Tbilisi to evacuate military and civilian personnel from Afghanistan.
The United States forces will operate in a reliable, comfortable, and friendly environment in Georgia. Americans are welcome in Georgia. Over 90 percent of Georgians hold a favorable view of the United States. According to the Edison research's survey, 64 percent of Georgians support the idea of hosting the U.S. military base. Hence, unlike many states in Central Asia and the Middle East, Tbilisi is less likely to challenge the U.S. basing rights or deny access for operations.
Skeptics in the United States may fear that the development of American over the horizon capabilities in Georgia could lead to a direct great power clash between the U.S. and Russia. On the other hand, Isolationists may also argue that the South Caucasus is Russia's backyard, and Moscow can always out-escalate and outplay Washington in any military encounter over Georgia. But, the United States' strategic edge over Russia, reflected in Washington's superior economy, technology, military capabilities, and alliance system, will make Russia less likely to clash with America over its increased military footprint in Georgia. Moreover, America's military buildup and its strong military commitment to European defense deterred the Soviet Union, and similar engagements in Georgia will deter Putin's Russia.
This is why the United States should place its military facilities in Georgia and embrace Tbilisi's opportunities against the challenges emanating both from Afghanistan and the broader Middle East. The U.S. military infrastructure in Georgia, integrated into the United States over the horizon capability architecture will provide the U.S. with more mussels and flexibility to deter Russia, contain Iran and keep China at bay while weakening and even preventing the reemergence of terrorist networks in Afghanistan.
Miro Popkhadze is a Fellow at FPRI's Eurasia Program. He was the Georgian Ministry of Defense Representative to the United Nations from 2015 to 2019. Prior to this assignment, he served as the Assistant Defense Attaché at the Embassy of Georgia to the United States in Washington, DC. Popkhadze was a non-resident Fellow at the Atlantic Council of Georgia in Tbilisi.