Could Russia Attempt a Crimea-Style Operation Against Belarus?
As tensions mount in Moscow's standoff with the West, the upcoming Zapad military exercises likely will be larger and more important than ever before.
Russia's annual strategic "Zapad" (запад; Russian for west) military training exercises—held in Russia's Western Military District and regions of Belarus—began on September 14. Troops from neighboring ally Belarus joined alongside Russian forces in the week-long demonstration of military force.
Historically, Russia (and the Soviet Union before it) has maintained a habit of conducting offensive operations under the guise of training exercises. The drills will reveal the Russian military's tactical capabilities and provide indicators on the threats it is focused on.
How Moscow could use the exercises to its advantage
Moscow could use the exercises to boost its presence in states along the front line with North Atlantic Treaty Organization forces and to increase its military assets in Belarus.
The two nations have partnered in the drills ever since 2009. Within their 1st year as a collaborative endeavor, the drills had been the biggest joint exercises Russia had conducted in the post-Soviet era. Official statements announced that 12,500 military personnel Participated In the 2009 exercises, which included 100 combat, tanks, armored vehicles, artillery airplane and 20 warships.
These drills took place in the crucial Area surrounding the Baltic area and mimicked not only the invasion of Poland but a strategic nuclear strike on Warsaw, increasing concern among NATO member countries.
Russia has conducted several large-scale snap exercises along NATO's eastern flank with little to no notice and in a non-transparent manner.
Russia and Belarus held the next Zapad exercises in September 2013. Expanded to include all branches of Russia's army As well as rapid response Units of the Collective Security Treaty Organization, the drills likely were considerably bigger than the previous exercises, even though the exact numbers are up for debate.
The exercises simulated an assault by Baltic terrorists on Belarus which resulted in a mixed air, naval forces, and urban warfare response. And as had become custom by that time, they ended with a mock atomic attack, this time against Sweden. More important, Russia employed a number of the same approaches it tried in the 2013 Zapad exercises, including the use of unmanned aerial vehicles, when it got involved with battles In Ukraine and Syria during the following two years.
Moscow isn't happy with Minsk.
Belarus and Russia entered into a formal "Union State" in 1999 to promote trade and other policies, but the goal of a single currency was never realized. Some experts suggest Putin could use the financial component of the "Union State" arrangement as his legal justification in annexing Belarus.
Putin has been growing uneasy with the West warming to President Lukashenko of Belarus since 1994. The U.S. has sought to get closer to Belarus by lifting some sanctions it imposed to encourage political forums. Last year, The European Union also lifted its five-year sanctions on Belarus, a country with about 10 million people.
Moscow also isn't happy that Belarus continues to depend on Russian subsidies because the collapse in oil prices has made Moscow cut back on spending. Moreover, Lukashenko's ties with Moscow worsened when he positioned himself as a neutral mediator for the Ukraine peace talks.
At the same time, there's a chance Belarusian's officers might side with Russia in a military conflict. Some of the officers were trained in Russian military schools and are paid less than their peers in Russia. Belarusian troops realize that if Belarus gets annexed by Russia, they'll be better paid—with the bonus of serving in the armed forces of a nuclear-armed power.
Russia, meanwhile, beefed up its own forces along the borderlands and boosted its security support to regional allies and breakaway territories. Now that Washington has expanded its sanctions against Moscow — and the Kremlin has promised an "asymmetrical" response — Russia is looking to use this year's military drills to send a message to the West.
Heightened Tensions between Russia and the West
The United States and NATO built up their forces along the European borderlands after Russia annexed Crimea and began backing Ukrainian separatist forces in 2014. The West deployed continuous battalion rotations of 1,000 troops to the Baltic states and Poland and increased its presence in the Black Sea.
Held along the Europe's borders with Belarus and Russia, Zapad-2017 has emerged as an item of skepticism for governments and media outlets in Europe and the United States.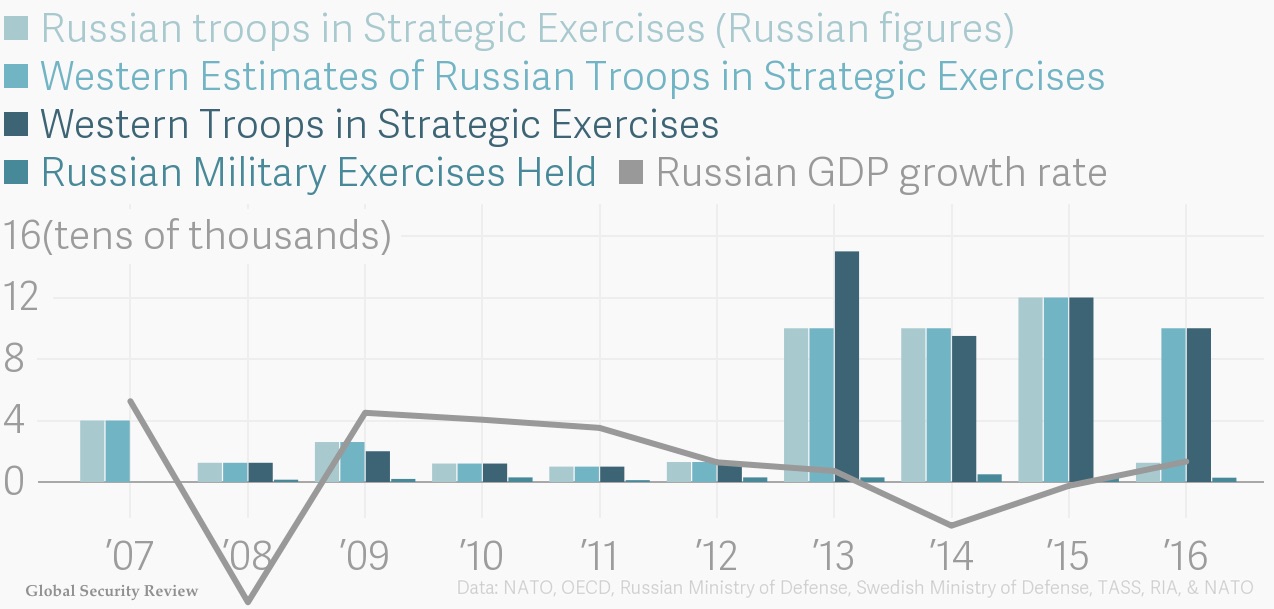 Ukrainian Defense Minister Valeriy Heletey commented that the 2017 Zapad exercises could be a prelude to an assault on any "country of Europe that shares a border with Russia." This concern is well-founded, given that troop deployment disguised as military training have preceded Russia's three most recent foreign military engagements.
This concern is well-founded, given that troop deployment disguised as military training have preceded Russia's three most recent foreign military engagements. Those skeptical about Russia's intentions will point out that Russian partners can be underreporting numbers since the Organization for Security and Cooperation in Europe's so called Vienna Accord require OSCE nations to permit in observers for particular activities between 13,000 troops or more.
Analysis: Biggest risk comes from non-transparency and Russia's displeasure with Belarus
The 2017 Zapad exercises are drawing attention because Russia can avoid the need for official outside observer nations by claiming it will have less than 13,000 soldiers in the drills. However, several smaller exercises will be conducted simultaneously, allowing Moscow to avoid the conditions put forth in the Vienna Accord.
Western intelligence and military agencies believe that over 100,000 troops could be deployed. According to statements from the U.S. Department of Defense, Russia has conducted several large-scale snap exercises along NATO's eastern flank with little to no notice and in a non-transparent manner.
The biggest risks stemming from the Zapad drills are possible errors, including stray shots, local attempts to test response  through other measures, escalations in existing conflict zones (such as in Ukraine, Abkhazia, or South Ossetia), or attempts to use nonlinear/hybrid warfare tactics, or asymmetric tactics,  in order to further consolidate the Russia-Belarus "Union State."