U.S. Intelligence Intercepts: Sessions Met with Ambassador Kislyak in 2016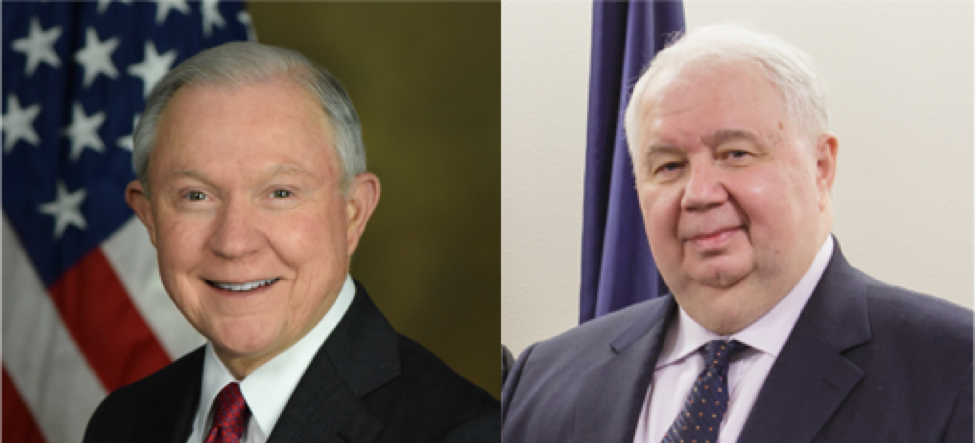 According to U.S. intelligence intercepts, Jeff Sessions discussed campaign & policy with the Russian ambassador during the campaign.
On January 10, 2017, Buzzfeed published the supposedly unverified "dossier" of material compiled by former British intelligence officer Christopher Steele. As has been widely reported, the collection of pages contained a mix of details and allegations that Russia had salacious, damaging or otherwise compromising leverage over then-President-elect Trump.
The publication of this dossier bred a firestorm of criticism and skepticism aimed at Buzzfeed, CNN, and Steele—who has since taken his family into hiding. However, amidst all the noise in the American press, the BBC published findings the very next day that seemed to verify aspects of the dossier secondarily through a source within the United States Intelligence Community.
For their part, the individuals named in the dossier—along with Trump himself—deny any association with Russia and any form of contact with Russian government officials during the presidential campaign. We now know that to be untrue as Michael Flynn held numerous conversations with Russia's ambassador to the U.S. In one instance, Flynn phoned the Ambassador multiple times on the day President Obama announced the expulsion of some Russian diplomats and the seizure of Russian state property on the U.S. East Coast.
Putin was measured and restrained in his response, saying he would wait to see what became of the incoming Trump administration. Of equal interest is the timing of Michael Flynn calls to the Russian ambassador.
Sometime after these revelations, it was reported that the U.S. has signals intelligence (SIGINT) confirming that Flynn had repeated conversations with Kislyak before election day. Since then, it's been confirmed himself that Flynn did have discussions with the Russian ambassador, in which he discussed ending the sanctions recently imposed by the still-governing Obama administration.
Were Members of the Trump Campaign like Sessions, Flynn Recorded on the Russian Ambassador's Hacked Phone?
In June of 2017, details emerged that paint a more comprehensive picture of the contact Trump associates had with Russia's ambassador to the U.S. A range of sources have alleged that Ambassador Kislyak's mobile phone was hacked by U.S. and allied intelligence agencies. The ambassador's phone was tapped, allowing U.S. officials to intercept telephone conversations, and was used as a microphone that could record in-person conversations.
The Russian ambassador's phone was used as a microphone and tapped to monitor in-person and telephone conversations.
This news is particularly relevant for General Flynn and Attorney General Jeff Sessions, as they did, in fact, have repeated in-person and telephone conversations with the ambassador. Sessions initially rejected any such assertion. Following a question from Senator Al Franken about whether he [Sessions] would recuse himself from an investigation, Sessions provided a two-part response.
Franken: "CNN just published a story alleging that the intelligence community provided documents to the president-elect last week that included information that quote, 'Russian operatives claimed to have compromising personal and financial information about Mr. Trump.'
These documents also allegedly said, 'There was a continuing exchange of information during the campaign between Trump's surrogates and intermediaries for the Russian government.' Now, again, I'm telling you this as it's coming out, so you know.
But if it's true, it's obviously very serious and if there is any evidence that anyone affiliated with the Trump campaign communicated with the Russian government in the course of this campaign, what will you do?"
Sessions: "Senator Franken, I'm not aware of any of those activities. I have been called a surrogate at a time or two in that campaign, and I didn't have — did not have communications with the Russians, and I'm unable to comment on it."
When asked, "If there is evidence of anyone affiliated with the Trump campaign communicated with the Russian government…what will you do?" Sessions responded by denying any knowledge of communications between the Trump campaign and Russian government officials. He then offered an unprompted denial that he had any interaction or communications with "the Russians."
While a conclusion shouldn't be based on one denying actions before being accused of them, the fact that Sessions provided such a response is important. During his June 13 testimony before the Senate Intelligence Committee, Sessions didn't issue flat denials, instead stating that he had "no memory" of meeting with Russian officials, or that he did so outside of his capacity as a Trump campaign advisor.
Investigators would be able to use recordings of Session's or Flynn's conversation(s) with the ambassador as evidence or as a means of persuading witness testimony. In any case, the fact that sources are sharing this information indicates that investigators and intelligence officials have collected sufficient evidence, and are moving past the surveillance stage of the investigation.
On July 21, 2017, the Washington Post—citing current and former U.S. intelligence officials—reported that U.S. intelligence agencies have intercepts revealing what was discussed between Ambassador Kislyak and then-Senator Jeff Sessions. These intercepts reveal the two discussed matters relating the presidential campaign and U.S. policy. According to the Post's report:
"One U.S. official said that Sessions — who testified that he has no recollection of an April encounter — has provided "misleading" statements that are "contradicted by other evidence." A former official said that the intelligence indicates that Sessions and Kislyak had "substantive" discussions on matters including Trump's positions on Russia-related issues and prospects for U.S.-Russia relations in a Trump administration."
What about the NSA's Reported Evidence on POTUS?
To date, it is unknown whether evidence concerning the President that the NSA is in possession of was collected through the SS7 exploit on Ambassador Kislyak's phone. If this were true, the Ambassador would have had to have the phone with him when he met with Trump in the Oval Office. However, sources would not reveal to us or other publications when the SS7 exploit was implemented on the ambassador's phone, how long it was active for, or if any evidence of Trump himself was collected through this method.
The Five Eyes Intelligence Agreement
Consisting of the intelligence agencies of the Australia, Canada, New Zealand, the United Kingdom, and the U.S., the agreement governing the Five Eyes alliance prevents member states from conducting unwarranted surveillance one another's territory and citizens. Most importantly, however, embassies (like Russia's in Washington, and Ecuador's in London) are considered to be the sovereign territory of that country and are given extraterritorial status.
Therefore, any intelligence collection on a diplomat from a non-member state would be entirely legal and above-board. This alliance is unparalleled when it comes to international intelligence sharing, as it's the most tightly knit partnership of its kind. As recent as this year, Canadian intelligence officials had been surveilling Canadian media outlet Rebel Media at the request of France's Directorate-General for External Security (DGSE) to reveal any participation of Rebel Media-linked individuals in Russian-initiated disinformation campaigns targeted towards then-presidential candidate Emmanuel Macron. Canada's intelligence services were assisted by Britain's GCHQ, the U.S. NSA, and the U.S. FBI, primarily, sources say, due to the involvement of a U.S. citizen employed by Rebel Media who is believed to have been involved in disinformation operations targeted at the U.S. and French electorates.