U.S. Officials Verify Key "Trump Dossier" Claims with Help from U.K. & Dutch Intelligence Agencies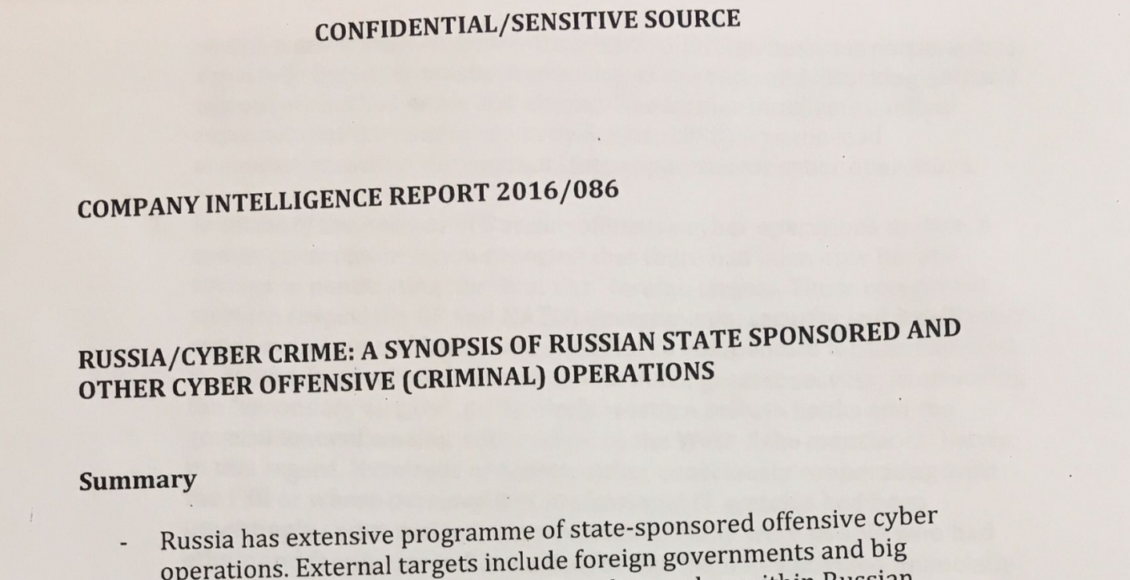 Evidence given by Dutch & UK intelligence agencies to U.S. officials independently validates many claims in the Christopher Steele "dossier;" Trump Advisors Linked to Proposed Deal to Partition Ukraine
Intelligence agencies of U.S. allies in Western Europe provided the U.S. with evidence and information collected regarding in-person meetings that had been occurring throughout the campaign in Europe by members of the Trump campaign and Russian intelligence officials. Sources tell us, and other outlets that this information has been used to validate various claims in the dossier. The operation—notably—had nothing to do with Steele's research.
Meetings between Trump associates & Russian intelligence officials took place in European cities
Published on March 1, and overshadowed by coverage surrounding Attorney General Sessions' recusal, was a New York Times report stating that multiple foreign intelligence agencies passed along information that provided independent verification of the meetings described in the Steele Dossier. The New York Times reported:
American allies, including the British and the Dutch, had provided information describing meetings in European cities between Russian officials—and others close to Russia's president, Vladimir V. Putin—and associates of [then] President-elect Trump, according to three former American officials who requested anonymity in discussing classified intelligence.
However, the Obama administration and the I.C. didn't realize the scope of the operation, and the significance of these meetings until after the election. Throughout the summer, the NSA collected SIGINT containing conversations between Russian officials discussing contacts with Trump associates. U.S. intelligence agencies were given additional information by their counterparts in Britain and the Netherlands.
At Intelligence agencies, there was a push to…keep the reports at a relatively low classification level to ensure as wide a readership as possible across the government—and, in some cases, among European allies.
The information included evidence and surveillance of meetings between Trump associates and Kremlin officials. At that time, the context of the meetings was unclear, and it wasn't until the Russian cyber-attack on various state electoral systems that the administration began to understand the scale of Russian interference.
The Times reports that the administration and the I.C. became increasingly worried that the potentially "damning" intelligence would be tampered with or destroyed by members of the incoming administration:
As Inauguration Day approached, Obama White House officials…began asking specific questions at intelligence briefings, knowing the answers would be archived and could be easily unearthed by investigators—including the Senate Intelligence Committee…At Intelligence agencies, there was a push to…keep the reports at a relatively low classification level to ensure as wide a readership as possible across the government—and, in some cases, among European allies.
Paul Manafort's Ukrainian Connection
Months before the election, reports emerged that Trump's former campaign manager, Paul Manafort, had a business relationship with ex-Ukrainian President Viktor Yanukovych. According to a handwritten ledger uncovered in August 2016 during the corruption investigation into the former president, Yanukovych earmarked over $12 million for payment to Manafort following his role in securing (albeit briefly) the Ukrainian presidency for Yanukovych and his pro-Russia Party of Regions. Following the original report, the Associated Press broke the news that Manafort received at least $1.2 million of the earmarked funds.
Manafort resigned after this information came to light during the campaign. He remained, however, as an unofficial advisor. Later, Manafort confirmed the existence of text messages on his daughter's phone meant for him—allegedly sent by a Ukrainian politician and oligarch with pro-Putin leanings. The messages served as blackmail, stating that damaging information would be released if Manafort did not comply with the blackmailer.
For his part, Paul Manafort flatly denies that the extortion claims are valid while maintaining his confirmation of the existence of the threatening text messages. Alone, these allegations do not prove that Flynn acted as an accomplice. Manafort is alleged to have played a part in crafting an agreement to cease hostilities in Ukraine hand-delivered to then-National Security Advisor Flynn.
How this would benefit Russian interests
This proposal hands Russia almost exactly what it wants: uncompromised influence over territories inhabited by large numbers of ethnic Russians at the expense of Ukrainian sovereignty. Sergiy Leshchenko, another pro-Russia Ukrainian billionaire, is believed to have played a role in this agreement. To date, nothing has come of this proposal; a group of private citizens—who happened to be close associates of Mr. Trump himself—submitted it to Flynn. The Trump administration has issued strong condemnations of Russia through surrogates like UN Ambassador Nikki Haley.
Attorney General Jeff Sessions was also found to have had conversations with Ambassador Kislyak. These discussions are believed to be related to the Republican Party's position on sending lethal vs. non-lethal aid to Ukrainian military units fighting Russian-backed rebels in Eastern Ukraine.
U.S. intelligence officials may have even recorded these conversations through the SS7 exploit deployed on the Russian ambassador's cell phone, which made the phone a 'hot mic' for the intelligence community.
The GOP's official position platform at the Republican National Convention endorsed providing Ukrainian troops with non-lethal aid. Initially, lethal aid was on the table, but it somehow disappeared from the final draft. The detailed nature of these conversations and the change in GOP policy reported in the Steele Dossier. Initially, public officials and the media viewed these claims with considerable skepticism. In the press, specifically, there was an anxiety that jumping to then-unverifiable conclusions would damage institutional credibility.
The previously-held perception of the dossier as a collection of entirely unverifiable rumors is now gone. There have been anonymous and public statements from current and former members of the U.S. Intelligence Community (I.C.)—such as those reported by the BBC—confirming reports that the I.C. was in possession of additional intelligence that served as secondary verification for several of Steele's claims.
Russian spy called Carter Page an "idiot."
According to federal court documents that emerged in April 2017, Carter Page met with a Russian national in New York. Victor Podobnyy, one of a trio of Russian citizens who would be charged as unregistered foreign agents, worked as officers in the S.V.R, Russia's foreign intelligence service. Page, who was interviewed in 2013 as part of an investigation into the spy ring by the F.B.I., was never charged or thought to be a foreign agent by the Bureau.
Under the impression that Podobnyy was a businessman, Page was hoping Podobnyy could help him broker oil and gas deals in Russia. According to the transcript in the court documents, Podobnyy told a colleague that Page frequently traveled between the United States and Moscow, and called him an "idiot" before noting that he was enthusiastic about making a significant amount of money. Page specifically indicated a desire to invest in Gazprom, Russia's state-controlled natural gas company.
Carter Page's Trip to Moscow & the Republican Convention Platform
The GOP's official position platform at the Republican National Convention endorsed providing Ukrainian troops with non-lethal aid. Initially, lethal aid was on the table, but it somehow disappeared from the final draft. The Steele Dossier described the precise nature of these conversations and the change in GOP policy. At first, however, journalists, officials, and public commentator viewed the dossier with considerable skepticism. There was an anxiety in the media that jumping to then-unverified conclusions would damage institutional credibility.
On March 7, Politico reported that a Trump campaign aide confirmed that campaign advisor, Carter Page, traveled to Russia in July 2016 and met with Kremlin officials. The Steele dossier mentions this trip. Upon the dossier's publication, Page and others issued complete denials.
Page…emailed Corey Lewandowski and spokeswoman Hope Hicks asking for formal approval, and was told by Lewandowski that he could make the trip, but not as an official representative of the campaign, the former campaign adviser said. The adviser spoke on the condition of anonymity because he has not been authorized to discuss internal campaign matters.
That particular trip is part of the Congressional and special counsel's investigations into Russian influence in the 2016 presidential election.
Raising further questions is another recent report from Politico, detailing connections between a dual Russian-Ukrainian national with connections to the GRU, Russian military intelligence. A man by the name of Konstantin Kilimnik attracted the attention of U.S. investigative and intelligence operatives by making at least two separate journeys to the U.S. during the presidential campaign.
When Kilimnik traveled to the U.S. in late summer, he drew the attention of U.S. authorities, according to a Washington consultant with ties to U.S. intelligence and law enforcement agencies.
And when Kilimnik returned to Ukraine after that trip, he suggested to Kiev political operatives that he played a role in a move by Trump's representatives to dilute a proposed amendment to the GOP platform calling for the U.S. to provide "lethal defensive weapons" for Ukraine to defend itself against Russian incursion.
J.D. Gordon, the campaign aide who confirmed Carter Page's July trip to Russia, told CNN's Jim Acosta that he directly intervened in the drafting of the Republican Party's official platform to change the language indicating support for sending lethal defensive aid to language supporting the provision of non-lethal aid. Gordon says the directive to do so came directly from Trump.
Trump said at the meeting … that he didn't want to go to 'World War Three' over Ukraine..